There are tons of social listening tools out there and it's hard to choose the one that's right for your company.
If you're looking for a social media listening tool in particular—one that can track what people are saying about your brand—then you've come to the right place.
To make your search for the right social listening tool easier, we've compiled a huge list of the best tools in the industry, including research on the pros and cons of each tool.
Here's a full roundup of the top social listening tools for marketers and agencies, updated for 2020:
Looking for a specific tool? Jump ahead:

1. Keyhole
2. Hootsuite
3. HubSpot
4. Union Metrics
5. BuzzSumo
6. Sprout Social
7. Mention
8. Brand24
9. YouScan
10. Agorapulse
11. Brandwatch
12. BrandMentions
13. Meltwater
14. Sprinklr
15. TalkWalker
16. Mentionlytics
17. Digimind
18. Zoho
19. Falcon.io
20. Iconosquare
21. Awario
22. Nuvi
23. Sendible
24. Reputation.com
25. Socialbakers
26. Oktopost
27. Statusbrew
28. Sentione
29. Mediatoolkit
1. Keyhole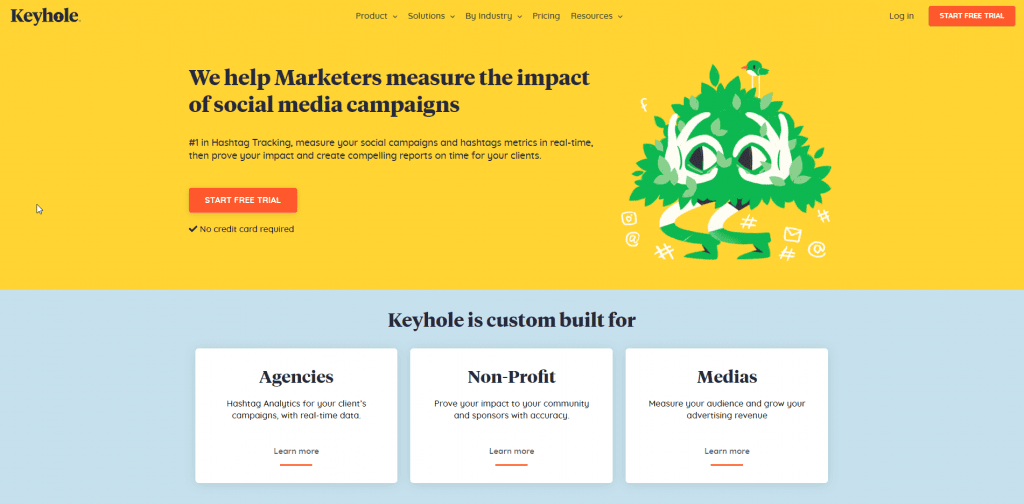 Keyhole helps marketers measure the impacts of their marketing campaigns. Keyhole offers campaign monitoring, influencer tracking, brand mention monitoring, and powerful competitor research tools that make it easy to benchmark your campaigns against your competitors'.
Keyhole offers social media listening and analytics for Twitter, Instagram, Facebook, YouTube, and other online media sources all in one easy to use dashboard.
Take it from Neil Patel: "This tool [Keyhole] does a lot of things others can't. And as a bonus, it's extremely user-friendly."
You can also use Keyhole to conduct social listening and identify which online accounts or influencers are talking about you or your brand.
Using social listening, you can conduct in-depth sentiment analysis and understand how your audience feels about your brand, certain features, or if there's anything noteworthy.
Pro: Keyhole has an attractive, real-time analytics and mentions dashboard that can easily be exported to client-ready PDFs.
Pricing: Starts at $30 USD per month after a free trial. You can view all Keyhole pricing plans here.
2. Hootsuite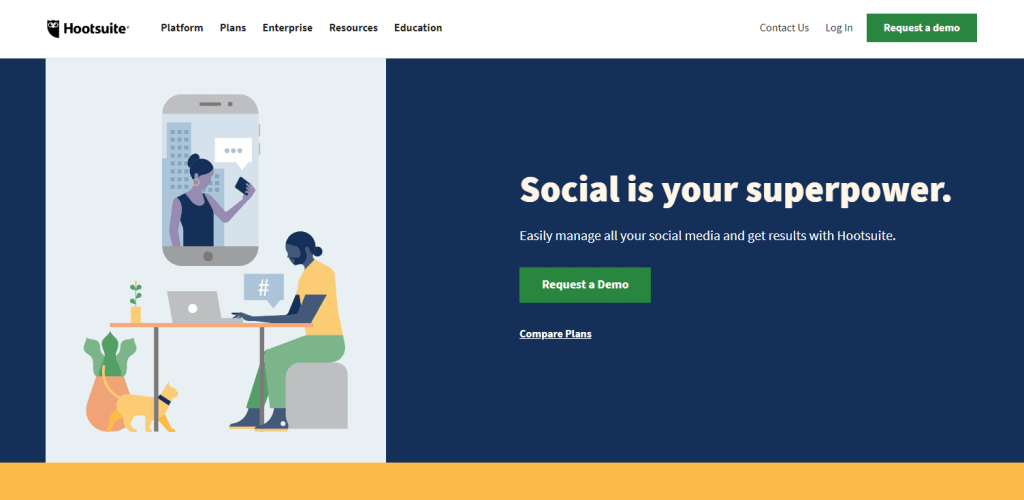 Hootsuite is one of the longest-standing and most popular social media management platforms. While it's best-known for its social media publishing features, it does possess a suite of social listening features, branded as Hootsuite Insights Powered by Brandwatch.
Hootsuite has useful features to help you track brand mentions, identify thought leaders and influencers, and track brand sentiment.
Pro: Hootsuite has a robust set of end-to-end features for pretty much anything you would ever want to do on social media, from publishing, to advertising, to tracking.
Con: Hootsuite's big feature set comes with a big price tag, and the social listening features are only available for their Business and Enterprise-level plans.
Pricing: Hootsuite's social listening features are a paid add-on to their Business and Enterprise plans, starting at $599 USD.
3. HubSpot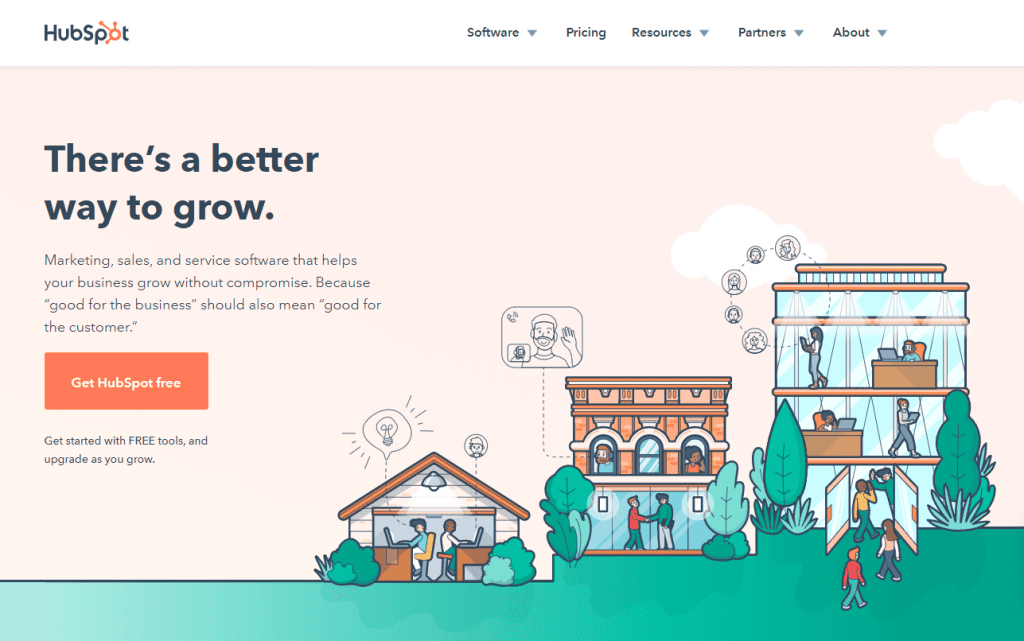 HubSpot is an all-in-one stack of marketing, sales, and service tools. HubSpot offers everything from a CRM, to a CMS, to a customer service platform.
As part of their marketing stack, HubSpot offers social media monitoring to create custom keyword monitoring streams, email alerts to track mentions, and analytics tools to compare performance across social channels.
Pro: If you prefer all of your tools in one place, HubSpot has nearly every marketing tool you could ever need.
Con: Because HubSpot does so many things, their social listening features aren't as deep as some of the other tools on our list, and the
Pricing: HubSpot's social listening features are included in their Professional and Enterprise plans, starting at $800 USD per month.
4. Union Metrics
Union Metrics is a social media analytics tool that offers social media metrics, keyword listening, campaign reporting, and competitive analysis.
Union Metrics offers standard listening features like real-time mention monitoring, sentiment analysis, and insights like best times to post.
Pro: Union Metrics has many easy-to-use analytics dashboards.
Con: Union Metrics' more advanced social listening features like sentiment analysis aren't unlocked until their top pricing tier.
Pricing: Union Metrics starts at $39 USD per month if paid annually.
5. BuzzSumo
BuzzSumo is a popular content discovery tool, allowing marketers to track content that's trending for certain topics or keywords.
Although not exactly a social listening tool in the sense of some of the other tools on our list, with BuzzSumo, you can track competitors, brand mentions, and industry updates.
Pro: BuzzSumo is extremely useful for tracking trending content and influencers.
Con: BuzzSumo doesn't offer as much when it comes to tracking your social media accounts.
Pricing: BuzzSumo starts at $79 USD per month when paying yearly.
6. Sprout Social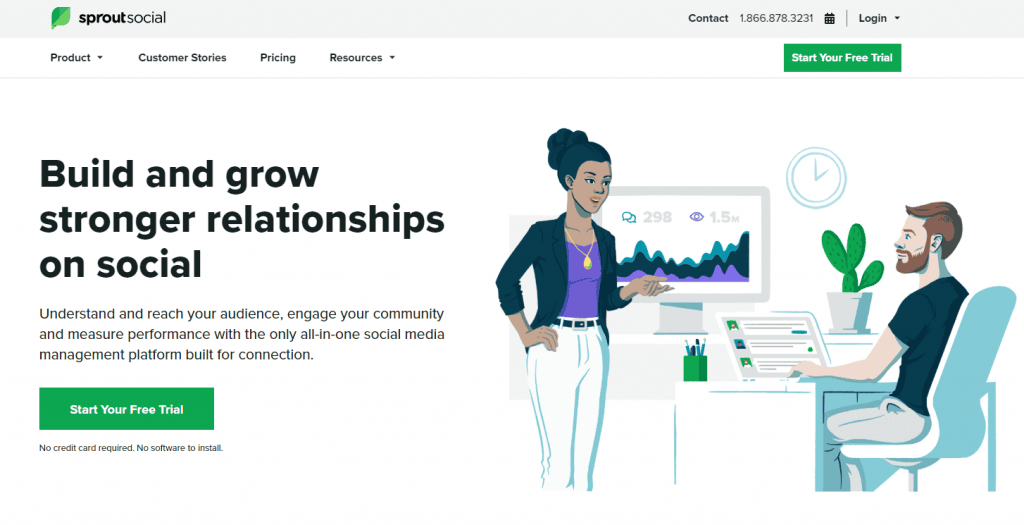 Sprout Social is a full social media management platform, allowing you to track engagement, manage your publishing schedule, measure analytics, and perform social listening.
Sprout Social has tons of useful social listening features like audience demographic analysis, customer sentiment tracking, influencer identification, campaign analysis, and competitor comparisons.
Pro: Sprout Social offers an all-in-one social inbox to track Facebook, Twitter, Instagram, and LinkedIn in one place.
Con: The Standard pricing tier has limited social listening features.
Pricing: Sprout Social pricing starts at $99 USD per user per month.
7. Mention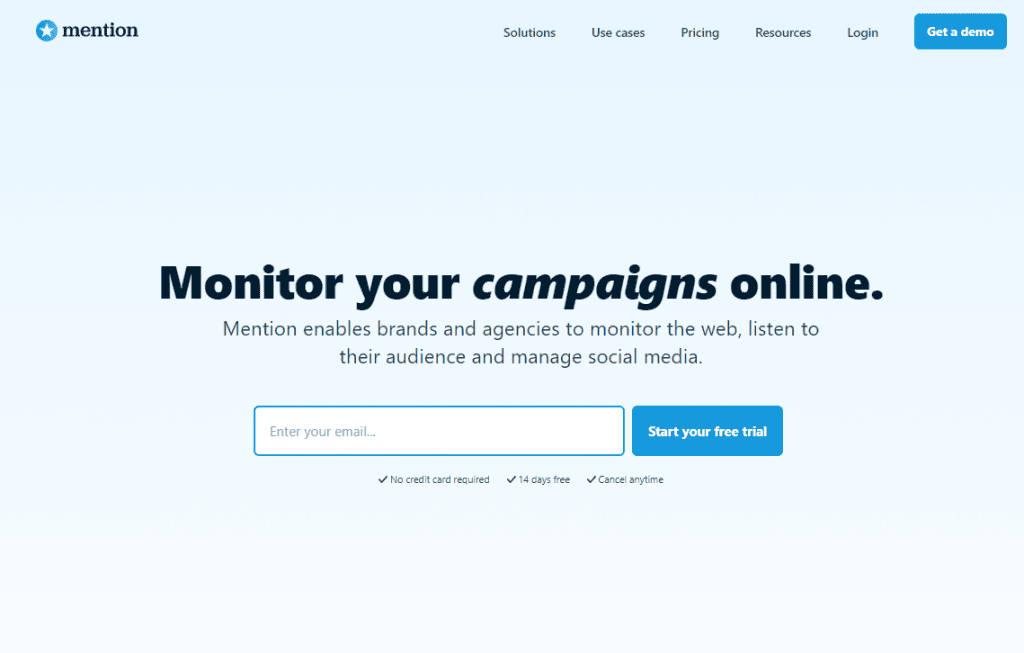 As the name suggests, Mention lets you track all of your brand mentions online. Mention offers a variety of social listening and publishing tools to monitor online media, analyze your competition, and manage your brand.
Mention offers real-time mention tracking and detailed analytics on your industry competitors.
Pro: Mention provides daily recap emails with key info as well as alert emails when your mentions suddenly spike.
Con: Their pricing model limits the number of mentions you can track per month.
Pricing: Mention has a free model for up to 250 mentions. Their paid plans start at $25 USD per month.
8. Brand24
Brand24 offers brand mention tracking across social platforms, news sites and blogs, video sites, review platforms, and more.
Brand24 features include a mentions feed, a discussion volume chart, marketing analytics, influence score, sentiment analysis, alerts, and reporting features.
Pro: Brand24 has some extra bonuses like a Slack integration and a mobile app.
Con: Online reviews mention a sometimes-challenging user interface and a thinner feature set than similarly priced tools.
Pricing: Brand24 pricing starts at $49 USD per month.
9. YouScan
YouScan is another social media listening tool that offers monitoring of social media, blogs, forums, reviews, and other online media.
YouScan offers some unique AI-powered listening features like logo recognition and object and scene detection to help brands track pictures as well as brand mentions.
Pro: YouScan's Visual Insights feature is a game-changer for brands that want to track when their products appear in a post.
Con: YouScan has a huge price tag, so it's cost-prohibitive unless you're a major global brand.
Pricing: YouScan pricing starts at $12,000 USD per year.
10. Agorapulse
Agorapulse is another full social media management platform, comparable to Hootsuite, Sprout Social, or Buffer.
On top of publishing and analytics tools, Agorapulse offers basic social media listening features like brand mention monitoring on Facebook, Twitter, Instagram, and YouTube.
Pro: Agorapulse offers some unique collaboration features like the ability to label important posts or assign a post to a teammate.
Con: Because Agorapulse is a full social media management tool, its social media listening tracking features aren't as robust as some of the dedicated tools.
Pricing: Agorapulse pricing starts at $79 USD per month when paid annually.
11. Brandwatch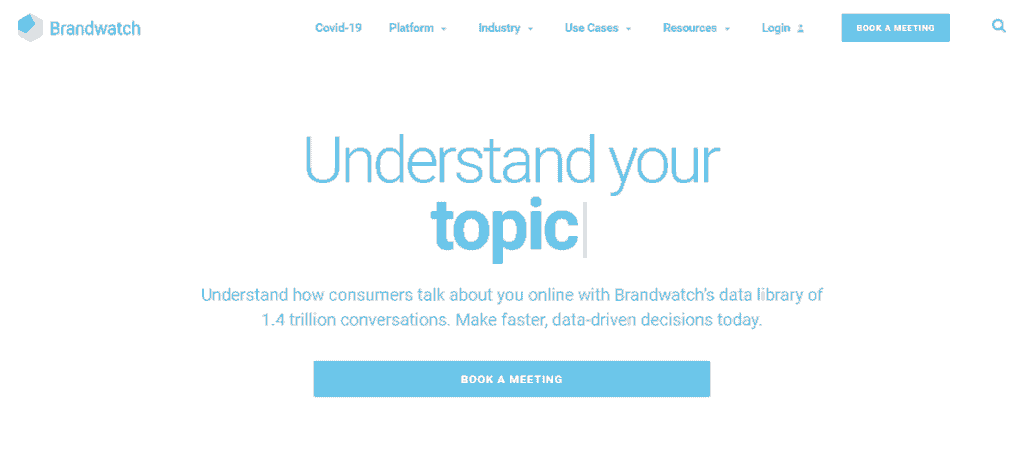 Brandwatch is an AI-powered social media listening tool. It's a well-established tool that allows you to benchmark competitors, track audience sentiment and demographics, and uncover influencers.
Brandwatch also offers many new listening features like image analysis, historical data, trending topic identification, and entity tagging to train AI.
Pro: Brandwatch always has some of the most innovative features in the social media monitoring space.
Con: Brandwatch is one of the priciest tools on the market.
Pricing: Brandwatch does not make its pricing available on its website, but according to PCMag, Brandwatch pricing starts at $1,000 USD per month.
12. BrandMentions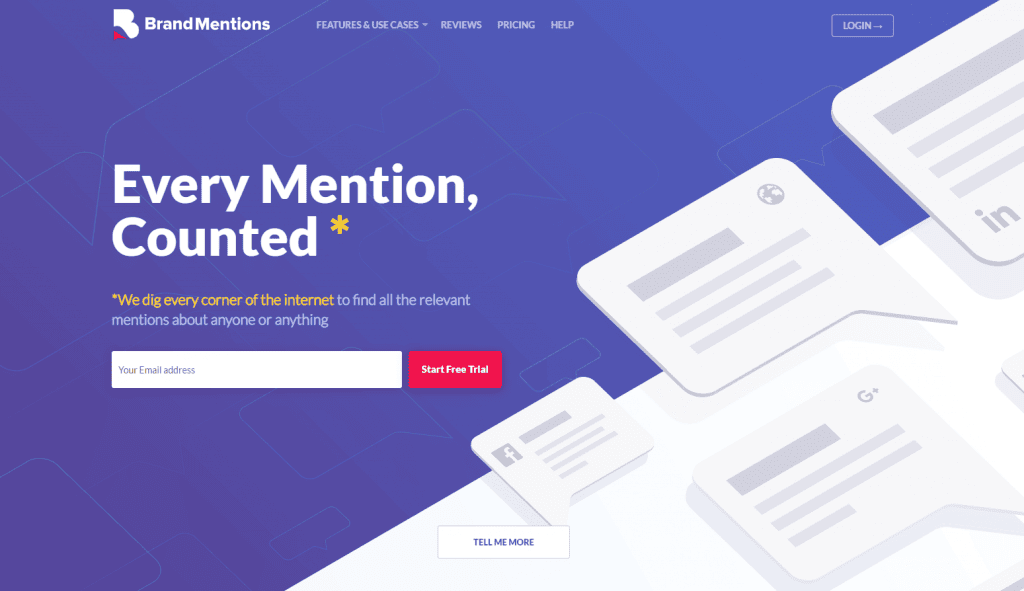 BrandMentions is another social media monitoring tool that offers standard features like brand monitoring, competitor tracking, sentiment analysis, and reputation management.
Pro: BrandMention also allows you to integrate website traffic monitoring into your analytics reports.
Con: In online reviews, some users report difficulty filtering down a large number of social media mentions.
Pricing: BrandMentions starts at $49 USD per month.
13. Meltwater
Meltwater is a full marketing and social media suite offering social media monitoring, online media monitoring, social engagement reports, influencer management, newswire distribution, media relations tools, and more.
They allow social media monitoring for 15 different social networks, and offer tracking through a mobile app.
Pro: Meltwater is a powerful PR tool and offers a robust media database.
Con: Meltwater constantly adds new features, but they often require add-on pricing and can be overwhelming for users, according to online reviews.
Pricing: Meltwater doesn't post pricing publicly, but according to Prowly, pricing starts at $4,000 USD per year.
14. Sprinklr
Sprinklr is a customer experience management (CXM) platform. Sprinklr is quite different than many of the other tools on our list, as its bread and butter is allowing you to engage with customers and monitor their experience with your product or service.
That said, as part of its offering, Sprinklr allows you to perform audience profiling, identify influencers, benchmark against competitors, and measure custom metrics.
Pro: Sprinklr allows you to unify your customer experience management with your marketing activities.
Con: Sprinklr is an enterprise platform that isn't suitable for small and medium businesses.
Pricing: Sprinklr does not make its pricing available online, but its pricing is reportedly modular based on which features you add.
15. TalkWalker
TalkWalker is primarily a social media listening tool, with standard features like mention tracking, report creation, and automated alerts.
TalkWalker also has more advanced features like brand image detection, a Virality Map, and other AI-powered features.
Pro: On top of standard social media and online mention tracking, Talkwalker also allows you to monitor TV and radio content.
Con: TalkWalker's pricing is catered only to larger businesses.
Pricing: TalkWalker pricing starts at $9,600 USD per year.
16. Mentionlytics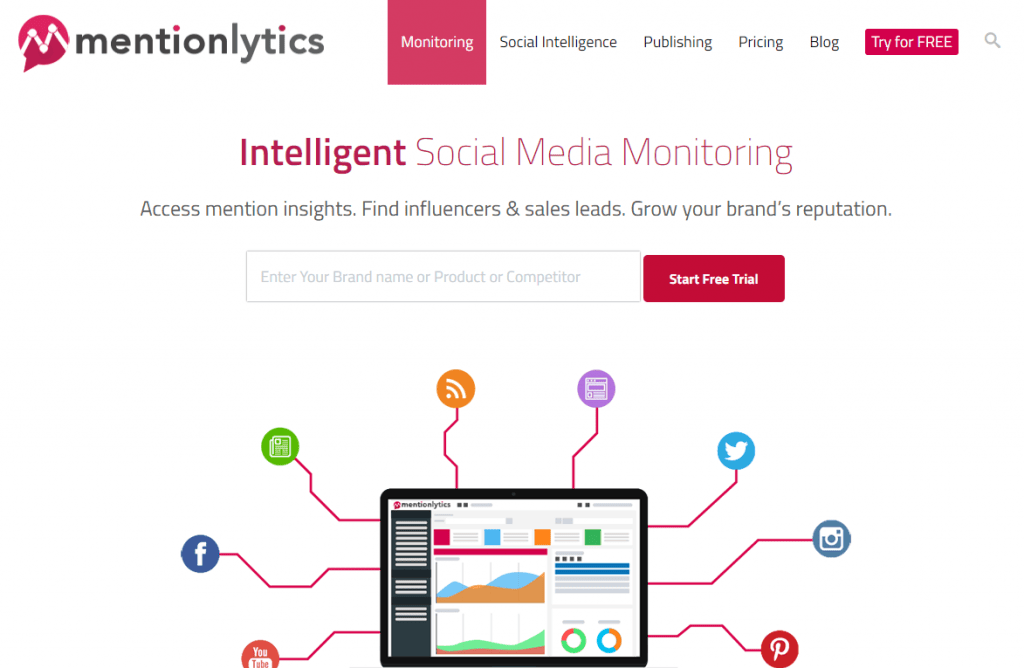 Mentionlytics is a fairly standard social media monitoring tool for business of all sizes. They also offer social intelligence and publishing tools.
Mentionlytics allows you to track mentions on social media, online news, and other online platforms. It also allows you to reply to tweets or posts in real-time. You can also monitor keywords and competitors to identify sales opportunities.
Pro: Mentionlytics has AI-powered features to help you identify fans, ambassadors, and even trolls.
Con: Users have reported an outdated UI design, but as of 2020 they have a new beta design in the works.
Pricing: Mentionlytics pricing starts at $39 USD per month.
17. Digimind
Digimind is a social intelligence tool offering solutions for brand reputation, competitive intelligence, consumer insights, influencer identification, trend tracking, and marketing campaign analysis.
Digimind's social listening tools include geolocalization, automatic sentiment and translation, topic clustering, and "marked as read" capabilities.
Pro: Digimind's Top Reputation module allow you to track what people are searching for when they research your brand.
Con: According to online reviews, the tool can be quite cumbersome for beginners.
Pricing: Digimind does not make its pricing publicly available. Contact to discuss.
18. Zoho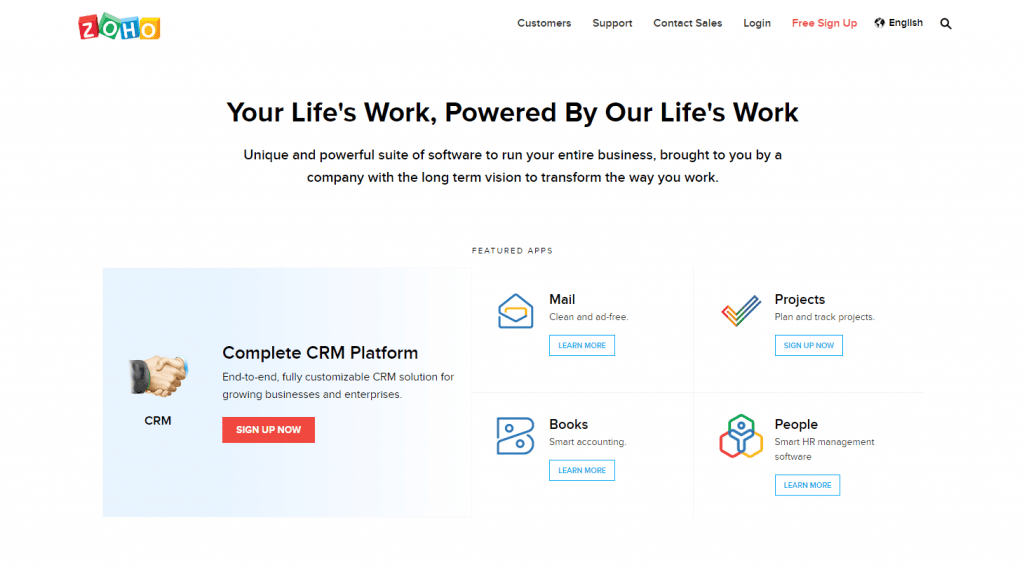 Zoho is a cloud software suite with many SaaS applications for businesses. On top of social tools, they offer a CRM, email and document platforms, and financial tools.
Zoho's social tools include publishing, monitoring, and reporting. Their listening tools allow you to monitor brand mentions in real time.
Pro: Zoho allows you to create your own monitoring dashboard.
Con: As Zoho isn't a social platform at its core, the tool is fairly limited in features outside of mention tracking.
Pricing: Zoho's pricing starts at $10 USD per month.
19. Falcon.io
Falcon.io is a full social media platform that allows you to publish content, create ad campaigns, engage with your audience, and monitor the web for insights.
Falcon.io's social listening tools include trend tacking, sentiment analysis, audience demographics, and influencer identification.
Pro: Falcon.io has a custom audience tool that allows you to create an audience based on the profiles detected through your social listening campaigns.
Con: According to user reviews, there are no export capabilities for reports.
Pricing: Falcon.io starts at $129 USD per month.
20. Iconosquare
Iconosquare is an Instagram analytics, management, and scheduling platform for brands and agencies.
Iconosquare is one of the most powerful Instagram analytics tools, offering competitor analytics, hashtag analytics, promoted posts analytics, industry benchmarking, conversation tracking, scheduling, Excel and PDF reports, custom dashboard, and more.
Pro: Iconosquare offers some unique Instagram features, like tracking of individual comments, photo tags, and mentions and tracking of content types like photos, videos, and carousel images.
Con: Iconosquare only allows tracking for Instagram and Facebook, unlike most of the other tools on this list.
Pricing: Iconosquare starts at $29 USD per month.
21. Awario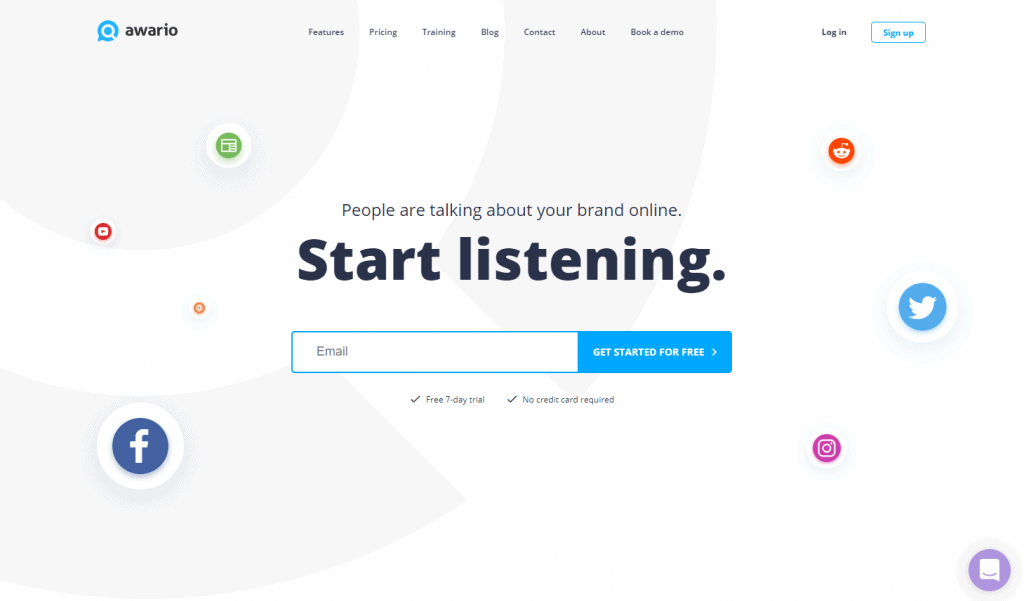 Awario is another popular brand monitoring tool. Awario tracks brand mentions and keywords in real time and offers additional features like sentiment analysis, influencer tracking, boolean search, white label reporting, and email alerts.
Pro: Awario has a social selling feature that tracks competitor complaints or recommendations for your product category, allowing you to identify leads on the fly.
Con: The abundance of information in Awario gives it a steep learning curve compared to its competitors.
Pricing: Awario starts at $29 USD ($49 CAD) per month.
22. Nuvi
Nuvi is a customer experience and reputation management tool that includes social media publishing and listening tools.
Nuvi's listening capabilities include keyword monitoring, influencer analytics, sentiment analysis, audience insights, and automated reporting.
Pro: Nuvi's robust platform also includes content planning, publishing, creation, and collaboration tools.
Con: As social listening isn't Nuvi's main feature, it doesn't offer much beyond the basics.
Pricing: Nuvi does not make its pricing publicly available online. Contact for pricing.
23. Sendible
Sendible is a social media management and tracking tool that includes features for planning, collaboration, engagement, and analytics.
Sendible's listening capabilities include mention alerts and hashtag and keyword monitoring.
Pro: Sendible monitors Facebook, Twitter, Instagram, YouTube, and LinkedIn.
Con: Sendible has a wide feature set, but its listening capabilities are fairly shallow.
Pricing: Sendible starts at $16 USD per month when paying yearly,
24. Reputation.com
As its name suggests, Reputation.com is a complete reputation management tool. Its capabilities include online review monitoring, business listing management, directory management, surveys, and social tools.
Their social listening tool includes mention tracking and sentiment analysis.
Pro: Reputation.com has a huge suite of reputation management tools.
Con: Reputation.com is less useful for those looking for social media insights.
Pricing: Reputation.com does not publish its pricing online.
25. Socialbakers
Socialbakers is a unified social media marketing platform that includes research and content strategy tools, social media management, measurement and reporting, customer care, influencer marketing, and listening tools.
Their social listening tool is powered by AI that automatically labels posts to help you spot trends. They also offer sentiment analysis and mention tracking across multiple channels.
Pro: Socialbakers offers helpful collaboration and approval flow capabilities.
Con: Socialbakers' rich feature set comes with a rich price tag.
Pricing: Socialbakers starts at $200 USD per month when paid annually.
26. Oktopost
Oktopost brands itself as the social media management platform for B2B enterprise. It features tools for social media management, social employee advocacy, and social media promotions.
Oktopost's social media listening tools include keyword, mention, and competitor tracking, primarily aimed at customer support.
Pro: Oktopost offers the unique ability to amplify your social posts through your employees' social accounts.
Con: Oktopost is more focused on B2B promotion than social listening.
Pricing: Oktopost does not publish its pricing online.
27. Statusbrew
Statusbrew is a tool for social media management, marketing, monitoring, and customer care.
Statusbrew provides live mention and conversation tracking, advanced keyword queries, sentiment analysis, lead profile building.
Pro: Statusbrew integrates with Google Drive, Slack, HubSpot, Salesforce, Zendesk, Dynamics 365, and other popular tools.
Con: Statusbrew is comparably more expensive than some of the similar listening tools on our list.
Pricing: Statusbrew starts at $99 USD per month when billed annually.
28. Sentione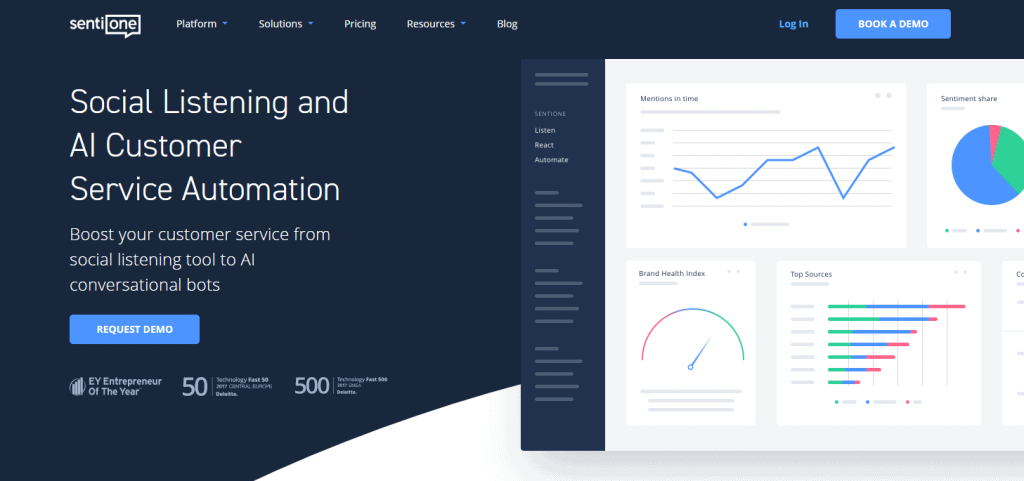 Sentione is an AI-based social listening and conversational bot tool. Sentione provides tools for online data analytics, chatbots, voicebots, and other automation-powered customer service tools.
Sentione's social listening capabilities include audience insights, comparative research, automated alerts, and AI-based anomaly detection.
Pro: Sentione's social listening tool allows for unlimited keyword tracking.
Con: Sentione is quite a bit pricier than other listening tools.
Pricing: Sentione's basic social listening plan starts at $299 USD per month.
29. Mediatoolkit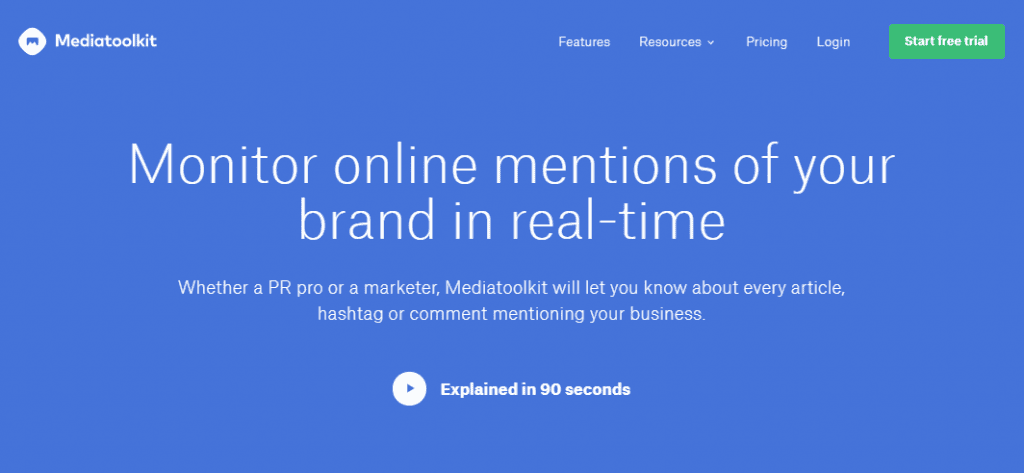 Mediatoolkit is our final brand monitoring tool. Mediatoolkit provides website and social media monitoring on Facebook, Twitter, Youtube, forums, blogs, and review platforms like TripAdvisor.
Mediatoolkit offers deep search capabilities, including location and language filters. They also offer sentiment analysis, influencer tracking, and custom PDF reports.
Pro: Mediatoolkit offers mobile and Slack notifications.
Con: For a tool that only provides social tracking, its pricing is quite high.
Pricing: Mediatoolkit starts at $117 USD per month.
---
Start your Social Listening Analytics Journey
If you've made it this far, you're either the world's biggest fan of social listening tool, or like to weigh all your options before selecting a social listening tool.
---
Related Articles:

Top 25 Social Media Analytics Tools: The Definitive Guide

16 Content Creation Tools to Make Life as a Marketer Easier
To get insights about your brand within minutes, we recommend our social listening tool: Keyhole. Start your free trial now!