There's no doubt that Talkwalker is a powerful social media listening tool.
But at a hefty starting price tag of $9,600 USD for the most basic plan, it's simply not an option for most marketers' budgets.
Don't worry though. There are several Talkwalker alternatives out there that offer social listening, social media analytics, and the reporting tools you need—with even better ROI for your business.
Here are the top 8 alternatives to Talkwalker:
Without further ado… let's take a look at each tool & what are the features they're offering:
1. Keyhole
Keyhole is a powerful Talkwalker alternative available at a fraction of the cost.
Keyhole's hashtag analytics and social media monitoring tools allow you to keep a finger on the pulse of your brand and your industry as a whole.
With Keyhole, you can measure the impact of your social media campaigns, hashtags, and influencers. You can also track your competitors and any content that's trending for your targeted hashtags and keywords.
Keyhole's social media reports are easy to use, visually appealing, and easily shareable with your clients.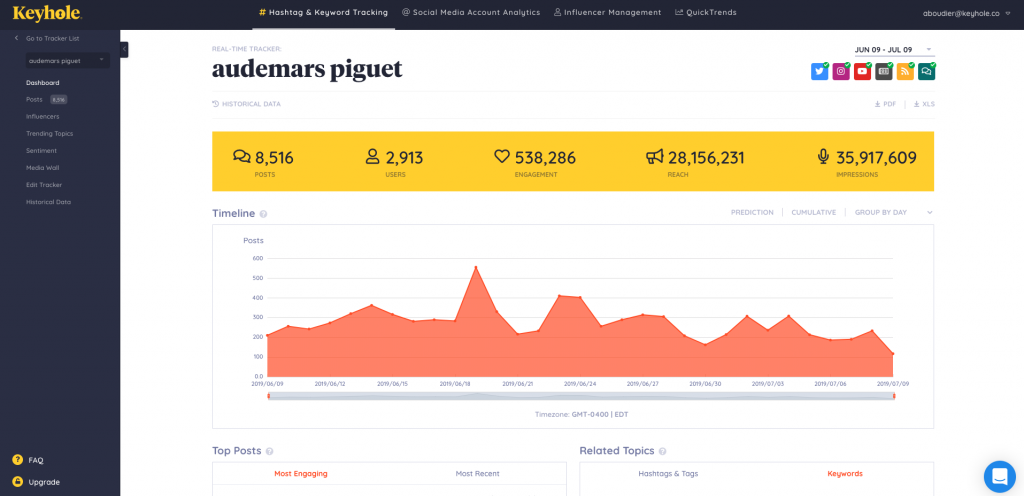 Neil Patel says, "This tool (Keyhole) does a lot of things others can't. And as a bonus, it's extremely user-friendly."
Pricing: Keyhole offers a free trial and custom pricing plans.
2. Sprout Social
While a little pricier than Keyhole, Sprout Social is another affordable alternative to Talkwalker.
Set up the Smart Inbox to bring mentions, messages, and tags from all social media channels into one central hub. Instead of switching between networks to track notifications, you can prioritize interactions by filtering and tagging options. 
You can also set up Sprout keyword searches to track the most important conversations around your brand and product mentions. They also have a Sprout "Trend Report" on Twitter performance to know where your efforts are working. The report has a breakdown of the most widely used hashtags, trending topics, and popular public figures in your industry. 
Sprout Social offers rich social analytics, engagement tracking, listening capabilities, and publishing tools.
Sprout Social's collaboration and automation capabilities are a nice bonus, too.
Pricing: Sprout Social offers a 30-day trial and 3 pricing tiers. Their plans range from $99-249 per user.
3. Brand24
Brand24 is another lightweight Talkwalker alternative.
Their platform offers a live feed of your mentions to track your conversations. They also have a discussion volume chart to track unexpected spikes in brand mentions and publicity.
They also provide mention analytics, influence score, sentiment analysis, and a variety of alert options.
Pricing: Brand24 offers a 14-day trial and 3 pricing tiers. Their Personal plan starts at $49/month and their highest-tiered plan is $199/month.
4. Mention
Mention's social media listening and publishing platform is the final Talkwalker alternative on our list.
Mention offers a feed of your brand mentions, analytics of industry audiences, and reports that allow you to measure the impact of your marketing efforts.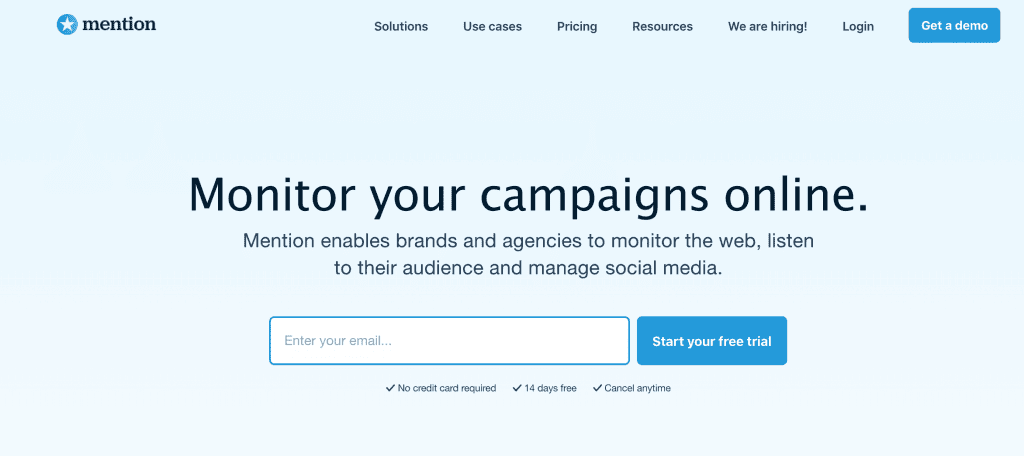 They also offer an interface for social media publishing and scheduling on every platform, including helpful preview tools to verify a post's layout.
Pricing: Mention offers 4 pricing tiers, including a free plan for one user. Their individual plans start around $25/month and their enterprise plans start at $450/month.
5. Meltwater
The Talkwalker alternative Meltwater is like a Swiss-Army knife of social media monitoring tools.
The key Meltwater features include unlimited keyword search capability, sentiment analysis, gathering competitor intelligence, influencer management, and crisis management over an easy-to-use interface. 
The key Meltwater features include unlimited keyword search capability, sentiment analysis, gathering competitor intelligence, influencer management, and crisis management over an easy-to-use interface. 
Be it a small in-house team or an agency collaborating with clients; the all-in-one workflow capability facilitates collaboration by keeping everyone informed and on track. 
Pricing: Customized pricing. 
6. Falcon.io
The marketing platform Falcon.io is a Talkwalker alternative used by social media marketers for social media listening, customer engagement, and audience management.
By collecting data across 100 million online sources, Falcon.io's social media listening features include managing your social channels, monitoring mentions across social media, forums, and review sites, detecting spikes and drops in your data, sentiment analysis and benchmarking performance.
This unified social media and customer experience platform is used by medium to enterprise companies to listen, publish, advertise, engage and measure social media activity. 
Pricing: They have two pricing plans. For small businesses, $108 is billed per seat per month and the pricing is customized for enterprises.
7. Zoho Social
Zoho Social allows you to manage multiple social media channels, collaborate with your team, schedule posts and monitor keywords from a single dashboard. 
With this social media monitoring software, you can get a real-time stream of updates from your audience across all social media platforms you manage through Zoho Social. 
Also, listening to numerous posts about your brand can get overwhelming. That's where you can build your social media listening dashboard to track and manage conversations. 
They have a dedicated message inbox where you can manage all direct messages from your audience on Twitter and Facebook in a chat-style interface. Lastly, you can also manage a contact directory to discover what your followers and people you follow are saying on social media about your brand. 
Pricing: Along with a free trial, Zoho Social has four plans you can choose from, ranging from $8.33 to $150 per month.
8. NUVI
NUVI is a Talkwalker alternative that gathers real-time social intelligence built on a proprietary language engine.  
Like all social media management tools, you can use NUVI to publish and schedule posts, analyze your social media activities and monitor the performance of your marketing campaigns. 
NUVI leads the pack because it gathers all your social media data in real-time and displays it as visualizations that help you make decisions quickly. Lastly, NUVI helps you understand your customers, competitors, and industry better with highly accurate data.
Pricing – Custom pricing. 
---
Looking to accurately track your social media campaigns? Prove their impact and ROI? Produce beautiful marketing reports?
Start your free Keyhole trial today or book a demo with the Keyhole expert.